Here's a work in progress of a piece I'm doing for my wife. I didn't have it finished in time for her birthday, will finish it off soon but thought I would share this new digital art with you. Inspired by the Mexican Day of the Dead and La Cavalera Christina. I love in Mexican culture that the skull and the dead are revered like this and seen as beautiful. After all, we all have skulls under our skin.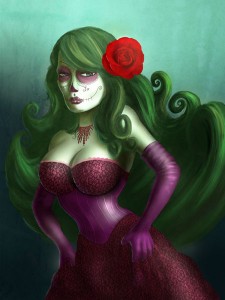 I also am exhibiting in the Karen White Gallery in Fortitude Valley for the next 2 months. Off to the opening night soon!
If you're in Brisbane and you want to visit >>>>> Karen White Gallery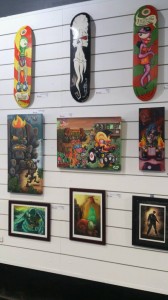 The final piece of news is I am slowing launching new prints and merchandise.
You can now purchase my 'Zombie Cop' as prints, iphone case and t-shirts. Head over to my RedBubble Store
If you want updates delivered straight to your inbox, join the Trick Monkey Inner Sanctum…………be one with us.