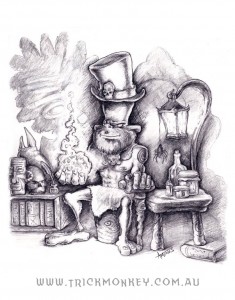 Trick Monkey is the all seeing Monkey Voodoo Witch Doctor. Keeper of Arcane Shaman Swamp Magick, Gate Keeper to the Other Realms, Enchanter of Mystic Material, Decipherer of Cryptic Tonic, Guardian of Occult Spirits, Monsters and Tikis.
His swamp land location is a mystery except to one person, Andy Monks. Andy discovered the location, lost one night he wandered aimlessly lost in a see of thoughts and confusion, stumbling across a glowing cabin in the swamp. It was a warm beacon and signified a turning point for both. Trick Monkey discovered someone to distribute his gifts and knowledge, Andy found a muse.
Andy Monks, now takes the gifts & knowledge given him by Trick Monkey to share with the world through 'Art'.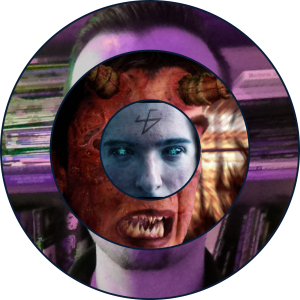 If you want some of the Trick Monkey, maybe you need an object enchanted, a mystical drawing of a forgotten creature or just something to give your spine a tingle, contact Andy and he will share the Magick of The Monkey Voodoo Witch Doctor, Trick Monkey!
More about Andy >>
Andy grew up in various cities along the east coast of Australia and spent most of the time in the car drawing monsters and trying not to get motion sickness. He always had a desire to be an artist even though most people told him he would need to get a 'real job'. Andy's parents always encouraged him. After high school and getting ejected by all of the major art colleges, he studied the 'new' field of digital art at TAFE in the early '90s.
Andy began his digital media career in 1996 as an interface designer and animator for CD-ROM multimedia and website design. Andy went on to become a 3D modelling and animation expert, after which he transitioned into digital effects for film and television.
Within 3 years he was a lead supervisor, overseeing teams of artists. During his 10 years in the film and tv industry, he worked for Cutting Edge, Photon and Animal Logic for a range of clients that included Disney, Village Roadshow and Warner Brothers. He has also done concept artwork for both games and features films, including the film 'Daybreakers'. He had a senior role as part of the Academy
Award-winning team of 'Happy Feet', working under director George Miller.
For the past 12 years, Andy has built a successful career as a freelance illustrator, miniature / gaming sculptor and artist. Working on a multitude of projects from books to board games. His artwork has been published, commissioned and exhibited around the world.
Andy has used his 3D skills to make figurines, collector toys, action figures and sculptures using 3D printing. He has completed a number of board game projects and miniature commissions. Andy's studio continues to be a source of prototyping miniatures and concept art for producers and designers in the tabletop gaming industry. He is also currently working with a team on a his own board game project.
Rods and Rockabilly 2016
Gallery Of Modern Art Brisbane - Harvest Festival
Lust For Life - Dead Scary 'Bring Out Your Dead' Show
Seven With Another: Retrospective
RAW Artist Showcase
Seven With Another: SIX
Moon-Eyes Japan DownUnder LowBrow Art Showcase
Illustrators Australia
Digital Dreams
Greasefest LowBrow Art Show Boss Artist
Slaughterball Deluxe - FrogTheWhat Games
Slaughterball Deluxe: Team Gruesome Expansion - FrogTheWhat Games
Slaughterball Deluxe: Maverick Set 1 (Kickstarter Exclusive) - FrogTheWhat Games
Xia: Embers of a Forsaken Star - Far Off Games
Shiver Me Timbers
Dark Animus Horror Anthology
PinStriping and Kustom Graphics Magazine
PC Gamezone - Comic Series 'Shin Jin Rui'
Daybreakers - Concept Artist
Happy Feet - Layout Lead
George of the Jungle 2 - 3D supervisor
Inspector Gadget 2 - 3D supervisor
Under the Radar - 3D supervisor
Seconds to Spare - 3D supervisor
Diamonds of Jeru - 3D Animator